Connection Technology Systems Inc. (CTS) is proud to announce IPS-3110-PB PoE switch that is designed for the deployment in harsh environment and equipped with Power over Ethernet (PoE) capability. Featuring built-in power booster and K.21 surge protection, it is ideal for the industrial Ethernet applications, including factory automation, city surveillance and building automations, etc.
—  Product Overview  —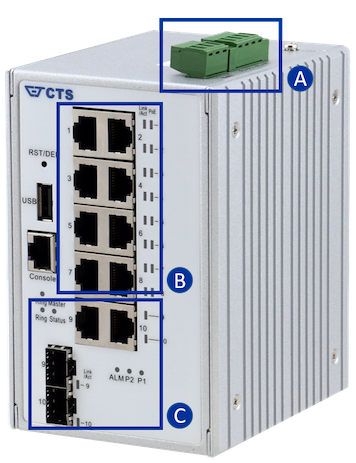 A. Power Input + Relay Alarm
B. 8 X Gigabit PoE Ports
C. 2 X Gigabit Uplink Combo Ports
—  Main Features  —

Support 8 Gigabit Ethernet ports with K.21 Surge Protection (6KV) and 2 Gigabit uplink combo ports (Copper and Fiber).
Feature Built-in Power Booster which is powered by 24VDC ~ 48VDC and delivers 120W PoE power budget.
Support Proprietary Fast Ring for fast recovery (<30ms) after encountering connection issues.
Provide full management including Web GUI, Telnet SSH CLI, SNMP interfaces.
Support VLAN, IGMP snooping and DHCP snooping for better security & traffic management.
Support Digital Output for fault alarm notification and Digital Input for power supply.
—  Application  —

—  Why you need Power Booster ?  —
Challenge

It is hard to find required power source
DC power input is unable to support enough PoE budget (30W).
The deployment of powered devices is limited and it is necessary to purchase extra power booster to solve this
CTS Solution
With built-in power booster,
CTS Industrial PoE solution can be placed in almost every environment and the deployment won't be limited by power supply, which provides more flexibility and stability.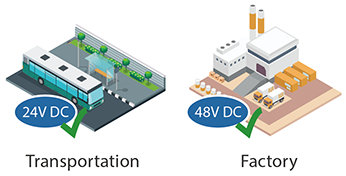 —  More Information —
If you want to know more about CTS products that with built-in power booster function, please check: