Rugged Design / PoE Switch & Converter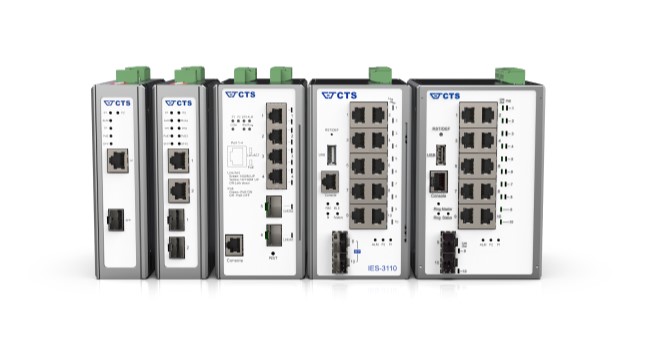 Providing Robust, Reliable & Flexible Solution for Critical Environments - Switch Series
The CTS Industrial Ethernet Switch series are enclosed in IP30 case which can endure wide-ranging operating temperature from -40 to +75 degrees Celsius. All CTS Industrial Ethernet Switches support DIN-rail mounts which allows efficient use of cabinet space. CTS also provide redundant supply system to enable a more secure, stable and sustainable connection.The industrial PoE Ethernet Switch series support IEEE 802.3af/at or 60W PoE power output that is able to supply power to PoE compliant devices which greatly reduce wiring complexity and save trouble to search for extra power outlets.
Robust, Reliable & Extendable Solution to Reach Copper Devices Effortlessly - Media Converter Series
CTS Industrial Media Converters in a robust IP30 housing are designed to meet the demands of industrial network for plug-and-play usage. Industrial Media Converters can extend your Ethernet network beyond 100-meter limitation and convert fiber links from multi-mode to single-mode or vice versa. The wiring distance of CTS Industrial Media Converters can extend from 2 to 120 km and data transmission distance is up to 120 km.
Our rugged media converter added a very useful function, PoE-Trigger! PoE Trigger allows you to turn on/off PoE power with Link Alarm. By shutting down the fiber port in the switch, the IPC-3014/3012 stops transmitting both data and power to connected PoE-fed products (IP camera, Wi-Fi access point…).
Since the first step when troubleshooting an IP camera or Wi-Fi access point is almost always is to reboot it, PoE Trigger is a valuable feature in these situations.
Core Competencies of CTS Industrial Ethernet Solutions
◆ Remote access control for efficient configuration
◆ DIN-rail mounting
◆ DHCP auto-provision

◆ -40 to +75°C operating temp.
◆ 6KV PoE surge protection
◆ Dual power input
◆ Power Booster
◆ Relay Output for Fault Alarm Notification
◆ Ring topology guarantees recovery time <50ms
◆ PoE Trigger
◆ PoE Schedule