Connection Technology Systems Inc. (CTS) is proud to announce that we have included 10G in our Fiber Access Switch series!!
The FOS-5126 is a Layer 2+ fully managed Switch with 24 Gigabit fiber downstream, in which 4 of them are combo (RJ-45 + SFP) ports, and with 2 x 10G SFP+ ports. This new product is designed to carry adequate bandwidth for Gigabit Triple Play services. All interfaces are located on the front panel to ensure easy installation and maintenance when installed in a cabinet or 19-inch rack. Combo ports (RJ-45 + SFP), Dual rate technologies and IPv4/IPv6 Dual Stack provide flexibility and extended product lifespan for service providers or operators.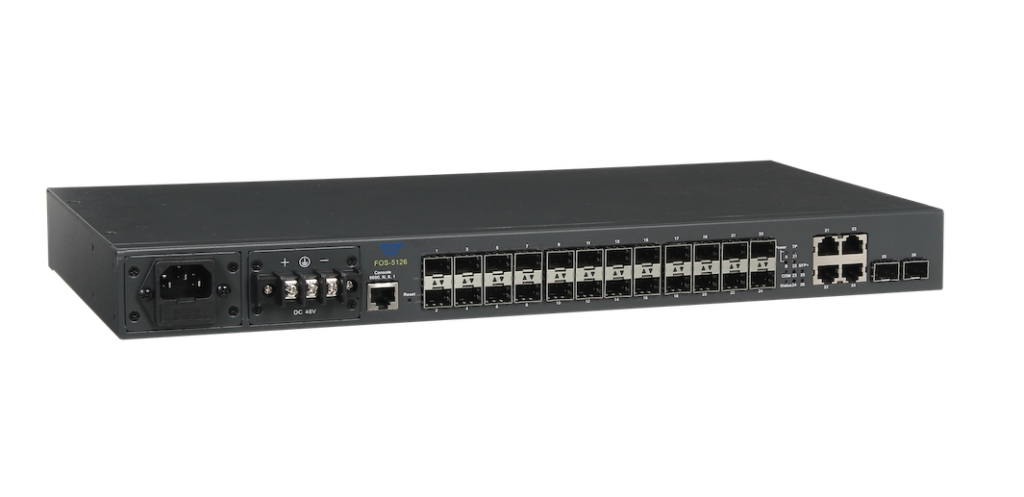 — Main Features —
FTTX (Fiber-to-the-X)
10G Fiber Uplink
Supports IPv6
Management
Gigabit Triple Play
Flexibility
Easy Installation &
Maintenance
FOS-5126 is made as a front-panel design so that customers could manage it without moving it out of the telecom room.
IPv6 / Power down trap / DHCP auto provision / Dual rate fiber / SNMP
10G Ethernet / Power Redundancy / Combo (SFP/RJ-45) / Green