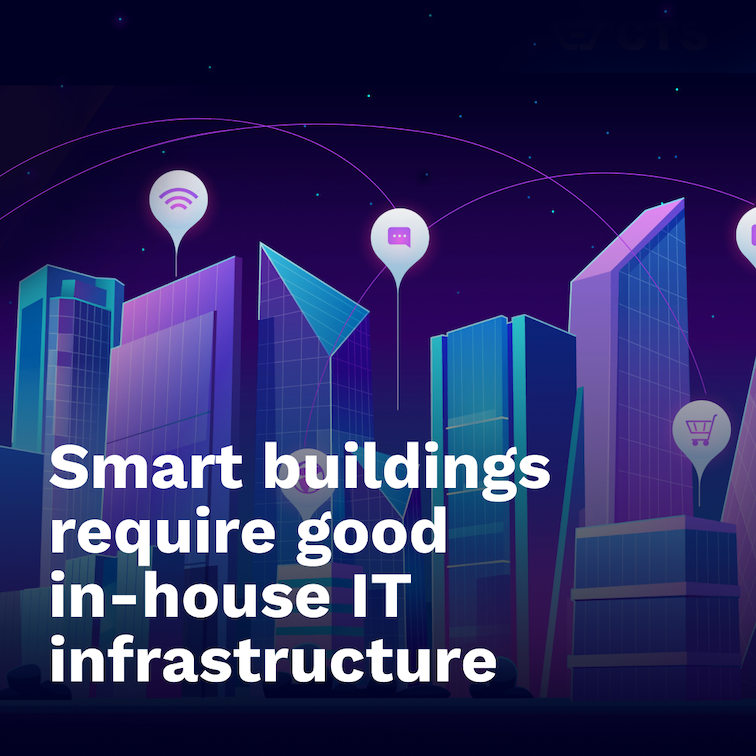 Smart building technology might make you think of sensors (temperature sensors, movement sensors, fire detectors et cetera) and connected things such as elevators, doorbells, and cameras. Data from the sensors is used to intelligently control the connected objects and there you go: a smart building. But what about the network behind it all? Do you have a robust, reliable network where data can be transported in a safe and secure way?
Smart building technology is constantly changing. We want to future-proof our homes and buildings and therefore invest in technical components. What we do need to look at more closely though, is the IT infrastructure that runs through the building. We need to build proper IT networks in our estates: a reliable, secure network based on open standards.
Don't sell out your network, you'll miss opportunities that Smart Buildings Technology brings you
This is typical: you are a property owner, approached by an internet provider. They can give your tenants fast, fiber-based internet and it costs you nothing. Sounds like a good deal? Right here is where we at CTS want every property owner to stop and think.
When it comes to IT infrastructure, if you allow an internet provider to draw cable inside your property, you bind your tenants to this agreement. They can not choose another service provider, not even if the prices are rising, and neither can you – the fiber network is not yours. Same thing if the fiber somehow gets damaged: you as a property owner have to pay for it. And this is the key question: what if the fiber, i.e. the IT Network, in fact, was yours?
When you build your own IT infrastructure in the property you own, it is a financial gain for both you and your tenants. They have the opportunity to approach you if they are not satisfied with the Internet service, and you have the opportunity to negotiate new agreements that benefit them. You become stronger vis-à-vis the operators you choose to buy from, and they get to deliver their services through your fiber network – for a fee!
First get your IT networks in place, then make your building smart
This is where the financial gain comes into play: when you build an IT infrastructure and use smart building technology to create the conditions for digitizing the property, build with an open standard. Just like the internet works, with standardized signaling so the whole world can connect. If you create a network with open standards, smart building technology from any vendor can connect. Elevator providers, ventilation providers, and camera providers are all connected through your network in a stable, secure ecosystem.
The smart buildings technology and IT infrastructure inside buildings = an ecosystem
We delve a little more into smart buildings technology and a functioning, secure IT infrastructure inside properties. We already have mentioned that the IT infrastructure is the basic prerequisite for being able to offer additional services for your tenants. Smart building technology and a management system are also a prerequisite, giving you a digital platform through which you can manage deliveries and communication between suppliers and tenants. Together they form the basis of a business model for the use of additional services, and how you get revenue from them.
Therefore, we cannot say this enough: it is extremely important that property owners invest in the right IT infrastructure before investing in smart building technology, to build the right foundation.
Look at it as an ecosystem. You as a property owner use the smart buildings technology and fiber to build an ecosystem and a marketplace that aligns with your company's goals and visions. Then procure operation, maintenance, and support to finally connect various additional services to the property's IT infrastructure. The cost of the smart buildings technology and fiber you installed is then repaid several times over, and you now own everything inside your property. This creates balance and business opportunities that cannot be compared to the quick deals you get from any internet provider.
This is how we wish every property owner would think and act.